Entertainment Schedule
Land of the Loon Entertainment 2017
You will find olcott park filled with some of the most quality musicians you will ever encounter anywhere!
This year's Ecumenical Service will be led by Jerry Pfremmer. Jerry Pfremmer is a local real estate broker. He's active with his family, business, community and his church of choice. A lifelong residence of the area, he enjoys the outdoors, 7 grandchildren, fishing with his wife Paulette and playing a few musical instruments from time to time. His favorite saying is: "Life is Good!"
---
Samuel "Sammo" Paul Miltich was born March 12th, 1985. He grew up in in northern Minnesota. His family is musical, and gatherings in the Miltich home bring family and friends together in a circle playing music and singing. Sam has played music from a young age starting on the piano, learning to read and write music, than playing bass and tuba for the school bands. At age 14, Sam began to study the guitar seriously. Exposed to many styles of music, Sam's greatest musical influences are Django Reinhardt, Duke Ellington, Jimi Hendrix, Andres Segovia, Antonio Carlos Jobim, Maurice Ravel, Stevie Wonder, Stochelo Rosenberg, and Bireli Lagrene. Sam is a lover of all musical styles, from jazz, to rock, to classical, to tamburitzan, to Brazilian bossa nova.
---
Steve Solkela is a proud member of Steve's Overpopulated One-Man Band. He is a Finnish farm boy from Palo Minnesota who studies Opera in New Jersey (Rowan University in Glassboro) Steve is thrilled to be performing for The Land of the Loon Festival.
---
Fun and laughs happen fast when comic magician, Jerry Frasier, comes back to celebrate the 40th Anniversary of the Land of the Loon Festival. A jolt of energy and amazement, this national entertainer wows audiences all over the country, from New York to L. A. and everywhere in between. Described as a comedy Houdini, Jerry's distinctively energetic magic is fun for the whole family! Everyone will be involved in the craziness!
---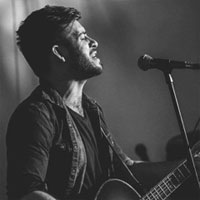 Preston Gunderson is a singer songwriter based out of Minneapolis, MN. With his powerful voice, and thoughtful lyrics, Gunderson's songs have been bringing in listeners of all ages and capturing major attention.
Originally hailing from Virginia, MN, or better known as the "Iron Range" Preston made the move to better pursue his passion and career of music. He has since been playing hundreds of shows each year, and performing for thousands annually.
---
Tony Lehr: 1/3 of the Minneapolis based Blindie Soulk (a combination of blues, indie, soul, and folk) trio, "Family Three". A storyteller at heart, loves to share his music with anybody that wants to listen. Any venue, any town, anytime, from The Grandstand at the state fair to living rooms and backyards all across the country, he hopes to share some songs and make some friends.
---
The Derrell Syria Project is a musical group that features a floating cast of quality musicians that varies in size ( 2-4) depending on the performance venue. They are also members of the Finnish Reggae group (Conga Se Menne). Their home base lies in Marquette Michigan. From there they travel throughout the Great Lakes states, entertaining audiences with their unique style of original music (Finnish Reggae) along with a large variety of re-arranged cover tunes, mixing their performances with guitars, bass, percussion, congas, keyboards and vocals, playing Reggae, Latin, Southern Country Rock, Contemporary and Alternative music. The bands energetic music has pleased audiences, both young and old, at concerts, festivals and many other events and you can be sure that once they start playing, you'll be moving to the rhythm.
---
The Downtown Dance Academy will bring some fantastic dancing to centerstage of The Land of the Loon 2016. Their fearless leader Amber Johnson will be showing off her student's versatility and talent BOTH days this year! You won't want to miss any of these fabulous performances!
---
Sheltered Reality - Founded in 1996, Sheltered Reality (SR) is a nonprofit musical organization whose performing membership spans all ages (currently as young as 4 and as old as 76!!). However, the majority of the members are youth aged 7-18 who come from practice sites located in Arizona, Illinois, Iowa, Kansas, Kentucky, Minnesota, Missouri, North Dakota, Nebraska, Ohio, South Dakota, Tennessee, Utah, Wisconsin, and Wyoming (with more sites and states to come). SR believes that Music can have Meaning, yet be a blast at the same time! SR performances use the power of percussion set to music, as well as high energy choreography, to engage and then motivate audiences to realize that any person, at any age in life, can dream and succeed. Success is first demonstrated through audience drum lessons followed by one or more audience participation songs; these always prove to be fun for audience members of all ages. However, SR then uses stories of hardship and triumph, as well as a sequence of Steps of Success to teach personal empowerment, character building, and ultimately translate the drum-playing success into something much more important: success in changing the world, and especially helping advocate for youth in crisis...the ultimate mission of Sheltered Reality.
---
Northern Twistars Gymnastics - Headed up by Gwen Roos. Come one and all to experience the talented kids from the Iron Range as they Twist and Turn to win your heart!
---
Saturday June 17th
| | | |
| --- | --- | --- |
| 11:00 | Derrell Syria Project | Lively Finnish Reggae |
| 11:45 | Downtown Dance Academy | Talented Dancers |
| 12:30 | Preston Gunderson | Singer Songwriter |
| 1:00 | Sheltered Reality | Vivid Drum Line |
| 1:30 | Steve Solkela | One Man Band |
| 2:00 | Sam Militich ~ Clearwater Hot Club | Gypsy Jazz |
| 2:30 | Northern Twistars | Skilled Tumblers |
| 3:00 | Tony Lehr | Singer Songwriter |
| 3:30 | Sheltered Reality | Vivid Drum Line |
| 4:00 | Derrell Syria Project | Lively Finnish Reggae |
| 4:30 | Northern Twistars | Skilled Tumblers |
| 5:00 | Sam Militich ~ Clearwater Hot Club | Gypsy Jazz |
| 5:30 | Steve Solkela | One Man Band |
Sunday June 18th
| | | |
| --- | --- | --- |
| 11:00 | Ecumenical Service | Jerry Pfremmer Officiant |
| 12:00 | Derrell Syria Project | Lively Finnish Reggae |
| 12:30 | Jerry Fraiser | Comedic Magician |
| 1:00 | Preston Gunderson | Singer Songwriter |
| 1:30 | Sheltered Reality | Vivid Drum Line |
| 2:00 | Sam Militich ~ Clearwater Hot Club | Gypsy Jazz |
| 2:30 | Downtown Dance Academy | Talented Dancers |
| 3:00 | Derrill Syria Project | Lively Finnish Reggae |
| 3:30 | Jerry Fraiser | Comedic Magician |
| 4:00 | Sheltered Reality | Vivid Drum Line |
| 4:30 | Sam Militich ~ Clearwater Hot Club | Gypsy Jazz |